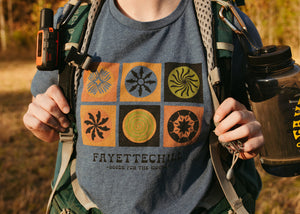 Best deals of the year! Don't miss out!
Goods For The Woods
We create goods for the woods that are good for the woods. This is a continued slogan and simple mission statement that we are proud to have for guiding what we do as a company.
Super comfortable.
Extremely slow delivery. Well below the industry standard these days. Tracking just said "intransit".
Not USA Made
My first issue was that between shipping and tax, I spent $100 on two tee-shirts only for the box to show up with just two shirts. No sticker, no post card, not even so much as an invoice that says thank you. Second, these shirts are no longer made in the USA. They are "made in Mexico with USA materials." Disappointing since this has been my main reason for wearing these shirts for the last 10 years. Shirts are still okay so I gave 3 stars. But if I would have known about the new country of origin combined with the fact they seem to have stopped caring about their customers, then I wouldn't have made the purchase.
The Smokehouse
Our headquarters is located in the historic Ozark Mountain Smokehouse at the base of Mount Kessler in Fayetteville, AR. 
Learn More
Retailers
We are proud to have partners across the nation that share similar passions of sustainability and the outdoors as we do.
Learn More